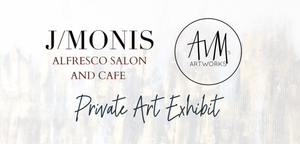 JING MONIS x AVM PRIVATE ART EXHIBIT
---
Curated by
Katha Pilipinas
 for
AVM's Artworks
, we join
JING MONIS
in celebrating the grand launch of his new alfresco salon and cafe. This collection represents the emotional journey of life in challenging times- light in the darkness, the choice to see space than emptiness, and growth amidst change. 
Just as this space symbolizes hope and new beginnings, these artworks remind us of the resilience of the human spirit.
Follow @jingmonisalfrescosalonandcafe on Instagram for news and updates!
Sorry, there are no products in this collection.