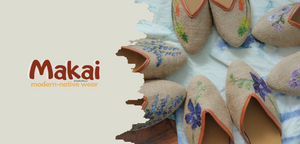 MAKAI MODERN NATIVE WEAR
---
Makai started out last 2019 as a friendly brand to share the love for handmade footwear. 
Still on the first phase of re-opening Makai, we are now showcasing Liliw-made handcrafted footwear. From modern-inspired designs to casual pairs made from native materials such as abaca and sako, we are very proud to bring these beautiful pairs to you!
Please help us invest in our local factories and keep loving where we live. Makai: Modern-Native Wear aspires to bring you not only handcrafted footwear, but even more artisanal handicrafts for your daily needs. Let us boost our communal unity. It takes YOU to start the trend. 
These limited edition mules are hand-painted by our lead artist Pinky Lizares from Bacolod City Negros Occidental.
Sorry, there are no products in this collection.